SLADJAN NEDELJKOVIC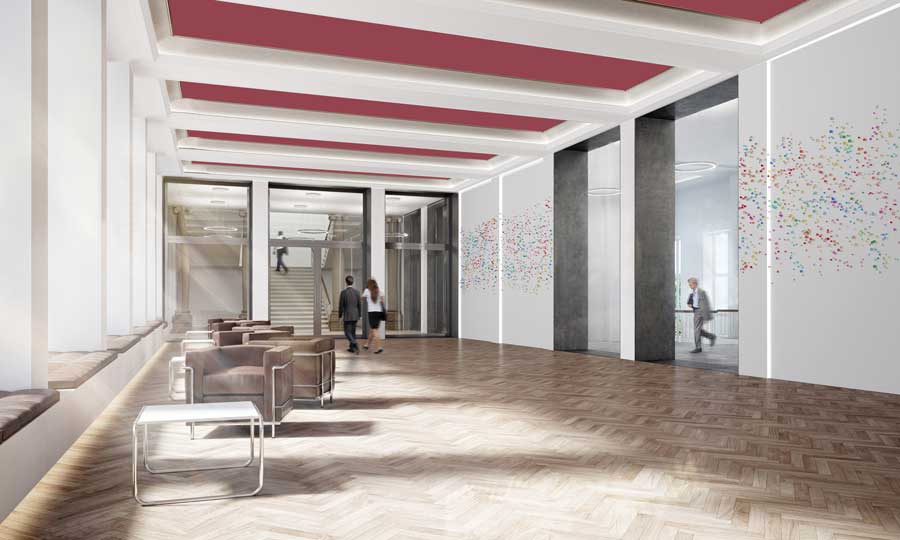 UNTITLED (ICOSAHEDRONS), 2019
Commission for the Art in Architecture Competition for the Federal Ministry of Health in Berlin, Awarded by ARGE ÖPP BMG Mauerstraße Berlin
The proposal for this project involves 3600 glass icosahedrons, differing in size and colour. By stretching these varying glass objects across the walls and around corners of the ballroom, the artist creates an illusion of spatial depth as well as a vibrant and playful pattern of light and shadow on the walls. The surface of the coloured glass structures is cut and thus responds in a subtle way to the site-specific spatial environment in natural light: In sunshine, they glow intensively; in overcast weather, the colours are subdued. Small glass icosahedrons shine brighter than large ones, because they are more translucent. The installation adds a playful and light touch to the strict geometry of the architecture; thus, a special atmosphere is created with the colourful elements.

The proposal's starting point was the artist's investigation into the geometric-decorative forms found in the entrance area of the building of the Federal Ministry of Health on Mauerstraße, Berlin. The wall decoration is made up of hexagonal, recurring elements. The Icosahedrons as used for the site-specific installation at the same building are geometric shapes made of 20 equal triangles. These crystal-shaped objects evoke a noble and luxurious spatial atmosphere in the foyer and are usually associated with molecules, atoms and gemstones found in chemical compounds and in nature.

Gemstones have traditionally proven to be a strong currency during times of crisis, as their stable value offers high protection against inflation. In addition to this reference to the building's historic function as a bank, the work equally refers to the institution's area of responsibility as the Federal Ministry of Health, dealing with setting out laws, public health care as well as the supervision of medical products. So on the one hand, the icosahedron is a symbol for a molecule and its combination in chemical and pharmaceutical products; on the other hand, the crystals evoke the notion of 'alchemy' by reminding us of the roots of chemical science.

Finally, the installation wishes to represents the positive spirit emerging from the relationship between creativity, research and science, based on colourful diversity full of symbolic power.
UNTITLED (ICOSAHEDRONS), DETAIL, 2019