SLADJAN NEDELJKOVIC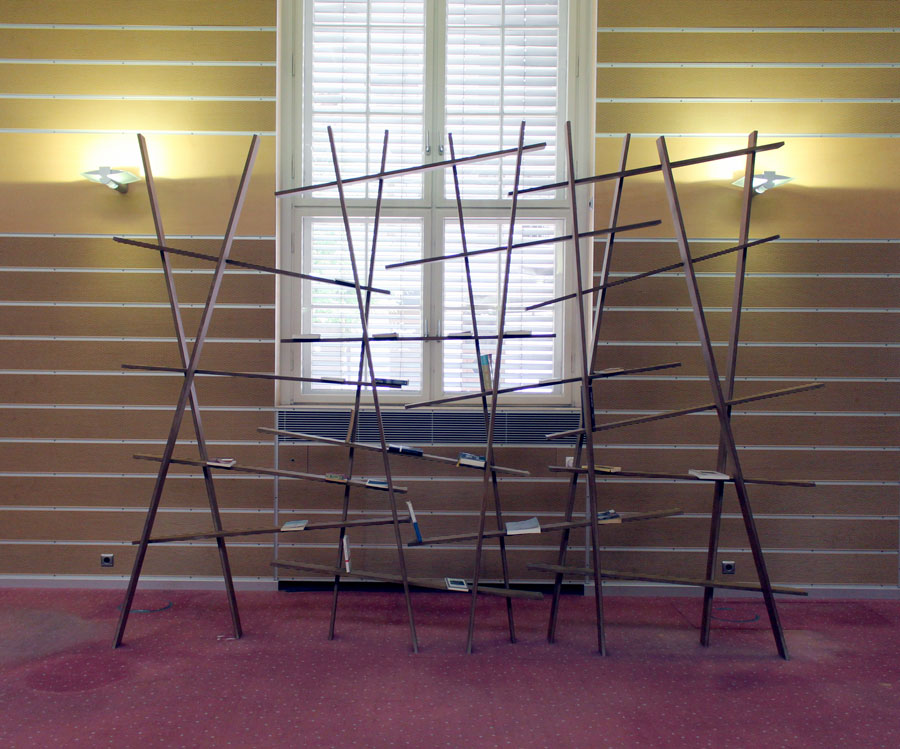 UNTITLED (MODERN LIVING) | KUNSTFESTIVAL 48H NEUKÖLLN 2018
MDF, books | Participatory art project
On occasion of the group show "Bank, Blank" - the main show during 48H Neukölln art festival - that was curated at a disused former 'Sparkasse' bank space, the artist Sladjan Nedeljkovic created a participatory installation. It comprises a free-standing book shelf with a selection of books chosen by Nedeljkovic. This large-scale structure occupies a space between a fragile sculpture and a purpose-built everyday object. The boards seem casually and quickly stacked on top of each other, defying the laws of craftmanship and functionality. They strongly incline and allow light to penetrate through the boards. A play with the rules of physicality, challenging the instable nature of the sculpture, the artist placed single books on the inclining boards.

Nedeljkovic, as in many of his works, offers a platform where social interaction can evolve during the exhibition. The visitors are invited to browse the selected books that deal with the topic 'the real' and 'authenticity'. The audience is allowed to pause, reflect and exchange thoughts about the 'real' and 'authenticity'. In our quick-paced and ever-changing world, it is precisely the touch of a real book, the old game of watching and being watched or having unexpected eye contact while peeking through the wooden boards, that can create brief moments of excitement and reach out to our deeper emotional self. While the status 'being online' and 'surfing' in virtual realities takes over more and more of our lives.
Nedeljkovic offers a welcome breathing space. By doing this, he wittily renegotiates and rejuvenates the term of the 'readymade': An everyday object in the art context, that comes to its full artistic fulfilment in the interaction with the audience.